Washington State caucuses could foreshadow Super Tuesday
The Republican presidential caucuses in Washington State are being held Saturday, three days before Super Tuesday. Mitt Romney is leading in polls, but Rick Santorum is strong there too.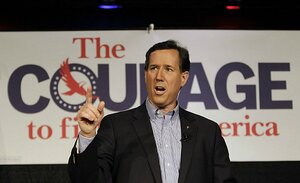 Eric Gay/AP
Super Tuesday with its 10 presidential primary elections and caucuses is just around the corner.
But just ahead of that political full-course meal comes an important appetizer: Republican caucuses in Washington State.
It's a beauty show or more like a straw poll since actual delegates will be chosen at a state party convention and county caucuses later. But Sunday's headlines will declare somebody a winner, and there's nothing like a win to add momentum to a candidate's push toward a big multistate contest.
The Monitor's Weekly News Quiz for Feb. 24-March 2, 2012
All four of the remaining candidates have trekked to the Pacific Northwest to campaign, and it was no accident of the calendar that state party officials moved their caucus date to just before Super Tuesday.
"This is the first time any one GOP presidential candidate has paid attention to us in recent memory, and my memory goes back to the 1970s," state Republican chairman Kirby Wilbur told CNN. "We used to be the ugly sister invited to the dance, but no one asked to dance. Now we are the princess."
---