Ohio looms large on Super Tuesday. Can Romney increase his delegate lead?
A win in Ohio on Super Tuesday could restore Mitt Romney's clear front-runner status. But senior Republicans are decrying the toxic nature of the campaign, and some prominent conservative commentators doubt that either Romney or Rick Santorum could beat Barack Obama.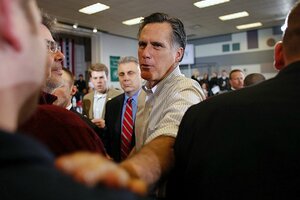 Brian Snyder/Reuters
Among the 10 states holding presidential primary elections or caucuses this coming "Super Tuesday," Ohio may be the biggest enchilada. It's a genuine swing state, and the economy – Mitt Romney's claimed area of presidential expertise – has been hit hard there.
Having won Michigan and Arizona this week, Romney reclaims front-runnerhood. Bagging Ohio could revive his "inevitable" status, some Republican insiders are saying.
"If he does [win Ohio], it's over," GOP strategist Ed Rollins told the Washington Post. "All that's left is convention speeches and the balloon drop."
Well, maybe.
Newt Gingrich is going for broke in Georgia (which actually awards ten more delegates than Ohio), the state he represented in Congress. Rick Santorum looks very strong in Oklahoma and Tennessee.
If Santorum wins those two states, and if he squeaks a win in Ohio, the day definitely will be his and Romney's status will revert to shaky.
---