Arizona, Michigan primary results restore Mitt Romney as GOP front-runner
With a blowout win in Arizona and a squeaker in the Michigan primary results, Mitt Romney can square his shoulders and advance to Super Tuesday as the solid favorite for the GOP nomination.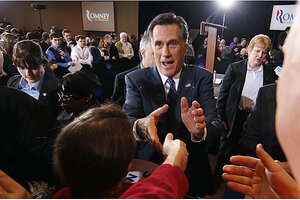 Gerald Herbert/AP
In politics, as in sports, a win is a win, no matter the margin of victory. For that, Mitt Romney is surely grateful. His nail-biter victory by 3 percentage points in his native Michigan, combined with a blowout 20-point win in the Arizona primary, puts Mr. Romney back on terra firma as the solid favorite for the Republican presidential nomination.
But victory came at a cost. The spirited challenge by Rick Santorum, who burst into contention three weeks ago by sweeping the contests in Minnesota, Colorado, and Missouri, dragged the Republican Party into its own version of class warfare and emphasized Romney's weaknesses as a candidate. A series of gaffes fed Romney's image as an out-of-touch plutocrat. Mr. Santorum's pungent culture-war rhetoric, aimed at attracting blue-collar and social-conservative voters, highlighted a strain of Republicanism that alienates women and independent voters.
---