Super Tuesday: Mitt Romney woos blue-collar voters in Ohio
Mitt Romney is locked in a tight GOP primary battle with Rick Santorum for Ohio, perhaps the biggest prize on Super Tuesday. On Monday he campaigned in blue-collar Youngstown.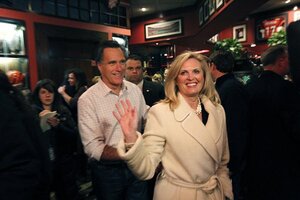 Gerald Herbert/AP
The day before Super Tuesday, former Massachusetts Gov. Mitt Romney brought his message of job-creation and increased prosperity to a part of the state that doesn't see many Republicans.
After courting a wealthier constituency in the Republican stronghold of Cincinnati over the weekend, Mr. Romney campaigned Monday in Youngstown, an embattled blue-collar city in dire economic straits that is trying to crawl back after decades of population loss and other forms of decline associated with the fading steel industry.
Among the 10 states holding presidential primaries and caucuses on Super Tuesday, Ohio, with 66 delegates at stake and expected to be a swing state in the general election in the fall, is perhaps the most sought-after prize. On the eve of the primary Mr. Romney was locked in a tight battle with former Pennsylvania Sen. Rick Santorum, who has shown strength among blue-collar voters.
At a town hall meeting of factory workers and others held at manufacturing plant in Youngstown, Romney declared Monday that if he wins Ohio, he'll get his party's nomination.
"My message to Mahoning Valley is pretty straightforward: I want to bring good jobs back here. I want to see rising incomes again," he said, referring to the surrounding region.
---