'It's the economy, stupid.' Can Mitt Romney woo South with that pitch?
Mitt Romney has built his campaign around his background as a business leader who can best manage a fragile economy. But that's far from a slam-dunk pitch with voters in the South.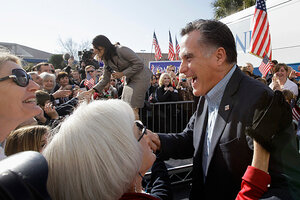 Charles Dharapak/AP
Nobody's saying Mitt Romney is taking the express lane to the Republican nomination, but what he's trying to do now is at least maintain hard-won momentum after recent victories in states like Michigan and Ohio.
The challenge for the former governor of Massachusetts is that the next round of primaries and caucus votes is in Southern or socially conservative states: Alabama, Mississippi, and Kansas.
Mr. Romney has built his campaign around the notion that his background as a successful business leader will burnish his appeal as the candidate who can best manage a fragile economy. Southern voters may care about Bible-based issues, but they're also engaged on the economic ones.
At least that's the theory.
One thing in Romney's favor is this: Although voters in the South may not be flocking enthusiastically his way, they don't appear solidly in the camp of any one rival for the presidential nomination. Former US Sen. Rick Santorum and former House Speaker Newt Gingrich are duking it out with each other, and not just with Romney, for votes.
---