Can Newt Gingrich keep his sputtering campaign alive?
Until this week, Newt Gingrich was running a distant third in the GOP presidential nominating race. With Rick Santorum out, Gingrich now runs a very distant second behind Mitt Romney. What reason does he have to stay in the fight?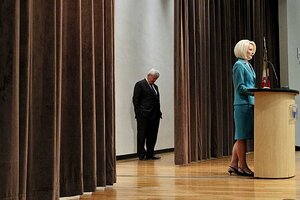 Ann Heisenfelt/AP
You can almost hear the political world asking, "Newt who?"
Newt Gingrich, former House Speaker and a major Washington figure for decades, has been pushed to the fringes of presidential campaign discourse.
Although he's still formally a candidate for the GOP's 2012 nomination, he describes Mitt Romney as "far and away the most likely" GOP nominee – a fact made all-but-certain by Rick Santorum's dropping out this week. Mr. Santorum had been Romney's last remaining serious challenger.
With $4.5 million in debt, the Gingrich campaign organization has been operating on a shoestring as his principal financial angel, billionaire casino owner Sheldon Adelson, began moving toward the Romney campaign.
"It appears as though he's at the end of his line," Adelson said recently. "Because, I mean, mathematically, he can't get anywhere near the numbers, and it's unlikely to be a brokered convention."
IN PICTURES: Newt, now and then
Gingrich has put his donor lists on the market, CBS News reports, "a sign that the cash-strapped campaign has had to put its bread-and-butter on the line to try to pay its bills." The going rate: $50 per 1,000 small-donor names, and $135 per 1,000 larger donor names.
---