Newt Gingrich bids farewell: After messy campaign, what next?
Don't expect Newt Gingrich to fade from view entirely after he formally suspends his campaign Wednesday. In a farewell video, he mentions plans that sound a lot like a continued campaign.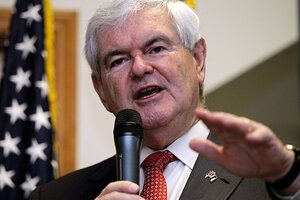 Chuck Burton/AP
Newt Gingrich takes the political stage one last time Wednesday, so he can leave it – at least for now.
At 3 p.m., at a Hilton Hotel in Arlington, Va., the former House speaker will formally suspend his presidential campaign, after informally suspending it a week ago. This, after issuing a pre-suspension farewell video to his supporters on Tuesday.
But no one who knows Mr. Gingrich expects him to disappear from the stage altogether. Despite all the sturm und drang that marked his candidacy, he still relishes public life and all the attention and adulation that go with it.
At the White House Correspondents' Dinner last Saturday night, while some celebrities scowled over being skewered, Gingrich was clearly pleased when President Obama referred to him jokingly as his "likely opponent," followed by, "Newt, there's still time, man!"
In fact, in the video, Gingrich described a future that sounds an awful lot like a continuing campaign.
"I want you to know that we're going to continue out there on the road," Gingrich said. "Both Callista and I will be talking, campaigning, making speeches, doing everything we can to help defeat Barack Obama."
What he didn't do in the video was mention the presumptive nominee, Mitt Romney, or the wealthy benefactor, Nevada casino magnate Sheldon Adelson, who shelled out more than $10 million to the "super PAC" that supported Gingrich by tearing down Mr. Romney.
---