Ron Paul 'bloodless coup' in Minnesota takes most delegates. Now what?
Ron Paul won 12 of 13 delegates in Minnesota's state GOP convention. If Mitt Romney has the nomination all but tied up and Paul has effectively ended his campaign, why continue the fight?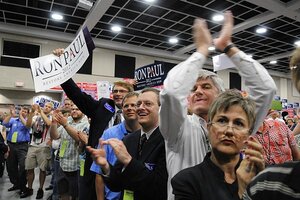 Dave Schwarz/The St. Cloud Times/AP
Ron Paul's forces pulled off "a bloodless coup" in Minnesota, as one observer put it, winning 12 of 13 Republican National Convention delegate slots in St. Cloud Saturday.
But what's the point, given that the Texas congressman has effectively ended his campaign for lack of funds to carry on in the states yet to hold GOP primaries?
The campaign is more than the 2012 presidential election, Representative Paul told supporters this past week.
"It is about the campaign for Liberty, which has taken a tremendous leap forward in this election and will continue to grow stronger in the future until we finally win," he said in a website posting.
And how does he intend to do that?
"Our campaign will continue to work in the state convention process," Paul said. "We will continue to take leadership positions, win delegates, and carry a strong message to the Republican National Convention that Liberty is the way of the future."
That's exactly what happened in Minnesota Saturday.
"The Paul crowd pulled off a bloodless coup," the St. Paul Pioneer Press reported. "Unlike other states where brawls broke out between Paul fans and Romney supporters, the Minnesota convention was a relatively civil affair. There were no fistfights or shouting matches on the convention floor."
---