Bad jobs report jolts Obama, gives Romney a break
The weak June jobs report ends a three-week stretch of momentum for President Obama. For Mitt Romney, it interrupts cries from conservatives to shake up his floundering campaign.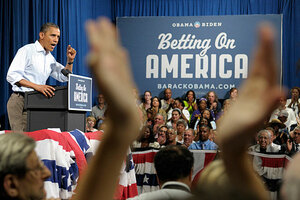 Susan Walsh/AP
On balance, it's a bad day for President Obama. The June unemployment report came in Friday below expectations, with only a net 80,000 jobs created and unemployment stuck at the high rate of 8.2 percent.
That makes 41 straight months above 8 percent unemployment, Republican presidential challenger Mitt Romney was quick to remind at an early-morning press conference.
The discouraging jobs report ended three weeks of momentum for Mr. Obama, which began with his new policy halting deportations for some young undocumented immigrants - a highly popular move in the crucial Latino voting bloc – and continued with the Supreme Court's surprise ruling last week that upholds most of his health-reform law.
The jobs news also interrupted Mr. Romney's damaging narrative of discontent among prominent conservatives, after he and his campaign fumbled their response on health care and news reports about his business practices and off-shore bank accounts.
Now, the discussion has jolted back to the core issue of the campaign: the economy.
"There's no way around it, the jobs numbers are a loss for Obama," says Cal Jillson, a political scientist at Southern Methodist University in Dallas.
Healthy growth in domestic auto sales and housing starts mitigates the bad news, but above all other economic benchmarks, it's the unemployment rate that gets the public's attention. What's keeping Obama competitive is the weakness of the opposition, Mr. Jillson says.
"The Romney campaign shows no momentum, no ability to grab opportunities," he says. "Obama is fortunate in his opponent."
Romney took a break from his family vacation in New Hampshire to jump on the bad employment news, holding a rare press conference soon after the jobs report came out.
---