Paul Ryan to seniors: Medicare 'going bankrupt,' competition is answer
At an AARP conference Friday, GOP vice presidential nominee Paul Ryan spoke of financial peril ahead for Medicare and contrasted his party's "competition"-based plan to fix it with Obama's plan under the health-care reform law.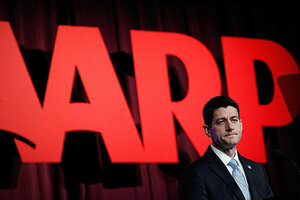 Bill Haber/AP
Republican vice presidential nominee Paul Ryan spoke bluntly about Medicare and Social Security Friday, sketching Republican reform ideas and arguing that President Obama, not the GOP, is putting those programs at financial risk.
Often accused by political foes of scheming to "gut Medicare," Mr. Ryan sought to turn that image around.
Speaking at the AARP's "Life @ 50+" conference in New Orleans, he pledged that a Romney-Ryan White House would make no changes to Medicare for Americans now at or near retirement age.
Using terminology that critics say is exaggerated, Ryan said Medicare is "going bankrupt." He accused Mr. Obama of offering no plan for how to cope with projected financial shortfalls, other than calling on unelected bureaucrats to impose cost cuts. Ryan was referring to the Independent Payment Advisory Board, set up in the president's 2010 health-care reform law, the Affordable Care Act (ACA).
"We propose putting 50 million seniors ... in charge of their own health-care decisions," Ryan said in his speech.
---