Will black voters give Obama what he needs in Southern swing states?
Black voters who do go to the polls are near-certain to vote for Obama. But in Virginia and North Carolina, concern is rising that the black voters who sealed the deal for Obama in 2008 will stay home.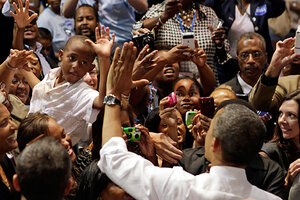 Kevin Lamarque/Reuters/File
When then-candidate Barack Obama won North Carolina by 14,000 votes in 2008, a lot of the credit went to the eye-popping 76 percent turnout rate among African-American voters.
Virginia, too, saw its large share of black voters help put Mr. Obama over the top in a state that hadn't supported a Democrat for president since Lyndon Johnson. The results revived Democrats' hopes for a new Southern strategy and for a new coalition between traditional black voters and progressive newcomers to the growing knowledge economies of northern Virginia and the Raleigh-Greensboro-Charlotte triangle.
But in these two Southern swing states, some polling and anecdotal evidence is giving rise to Democratic concerns that African-American enthusiasm for President Obama has slipped as a result of stubborn economic despair, deteriorating inner city conditions, a sense among voters that Obama no longer needs the black vote to win, and disagreements over social issues, including the president's embrace of same-sex marriage. Heightening those concerns is the recognition by campaign strategists and analysts that, to win reelection, Obama likely needs to get close to the 65 percent of black voters who turned out in 2008 to vote in 2012.
---