Romney campaign says it could take Pennsylvania. Hail Mary pass?
The Romney campaign says Pennsylvania is very much in play despite heavily Democratic voter registration and most polls showing Obama ahead. Romney made a last-minute visit Sunday.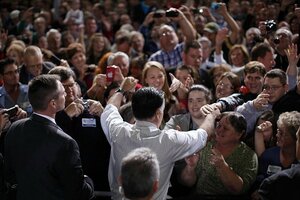 Jim Young/REUTERS
In the last two days of the presidential campaign, Pennsylvania has become a key battleground state – at least if you listen to the Romney campaign.
The state is very much in play, they say, despite being heavily Democratic in voter registration, and despite most polls showing Barack Obama ahead there. No matter that Mr. Obama beat John McCain by more than 10 points in 2008, it's argued, Pennsylvania can be won as the electoral path to victory shifts (or at least appears to shift in a very close race) while both campaigns adjust their last-minute rallies and TV ads.
"The map has expanded," Romney senior adviser Ed Gillespie said on ABC's "This Week" program. "We have been able to expand into Pennsylvania while fully funding and staying current with everything we need to be doing in Florida and Virginia and Ohio."
On "Fox News Sunday," Romney campaign manager Rich Beeson asserted that the electoral map "is expanding drastically in our favor."
"Drastically" may be putting it a bit strongly, but there could be a path to Mitt Romney's winning there.
---