Obama wins, but has anything changed?
All major media outlets have called the presidential election for Barack Obama. The vote leaves Washington exactly where it was before the election – and the GOP with deep questions.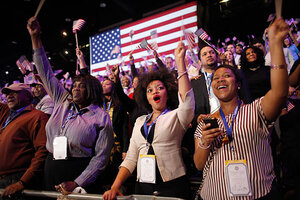 Jerome Delay/AP
President Obama won reelection, Democrats retained control of the Senate, and Republicans retained control of the House Tuesday night, in a presidential election that, while close, seemed to go the president's way from the beginning of the evening and was called far earlier than many people expected.
In some ways, the status quo was the big winner.
But it was a far narrower victory for Mr. Obama than it was four years ago, with states like Indiana and North Carolina going Republican this time around, and nail-bitingly close votes in Virginia, Ohio, and Florida as votes came in Tuesday night.
In the end, Ohio was the first of the major swing states to be called by the media for the president, seemingly assuring him of a second term. Wisconsin, Pennsylvania, and Iowa also helped assure his victory, and Colorado, Nevada, and Virginia soon followed.
If the president prevails in Florida, which seemed likely late Tuesday evening, the final electoral tally would come in at 332 for Obama, against Romney's 206.
The popular vote was far closer, and was still coming in from late-voting states in the West, but Obama seemed assured of winning.
---