Youth vote decides presidential election – again. Is this the new normal?
The youth vote proved decisive in Tuesday's presidential election, just as it did in 2008. But this year, it was a far greater surprise.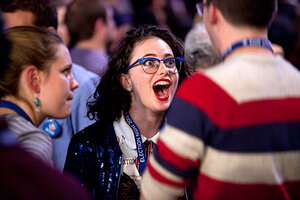 Melanie Stetson Freeman/The Christian Science Monitor
Millennials made it to the polls in droves Tuesday – proving themselves a central voting bloc in swing states and defying speculation that their enthusiasm had waned since the days of Barack Obama's historic candidacy in 2008.
People age 18 to 29 made up 19 percent of voters in this election cycle, up 1 percentage point from 2008, according to early National Exit Poll (NEP) data.
President Obama won this age group with 60 percent support, versus 37 percent for Mitt Romney.
If Mr. Romney had received at least 50 percent of the support of this age group in the swing states of Ohio, Virginia, Pennsylvania, and Florida, 80 electoral votes would have gone his way, winning him the presidency, according to an analysis by CIRCLE, an independent research center that measures youth engagement in politics.
Of all people under 30 who were eligible to vote, at least 49.3 percent did register and cast a ballot, a number that could rise to 51 percent in the final analysis and basically match the youth turnout of 52 percent in 2008, CIRCLE reports, based on its analysis of NEP data. That's between 22 and 23 million people.
---