Struggling in Wisconsin, 'maverick' Russ Feingold cozies up to Obama
Dubbed by some as the 'least loyal' of all Senate Democrats and trailing in the polls, Wisconsin's Russ Feingold is in a tricky spot as he tries to appeal to the Democratic base.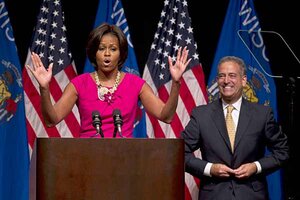 Morry Gash/AP
Locked in a tight race to hold onto his seat in the US Senate, Wisconsin Sen. Russ Feingold (D) is often criticized by opponents as too closely allied with President Obama. He voted for the president's health-care reform bill and last year's federal stimulus package, both of which Republicans say represent reckless spending and ineffective policy.
So when Mr. Obama appeared at a Labor Day rally in Milwaukee and Senator Feingold was nowhere in sight, many interpreted it as Feingold's hesitation to be associated with the president or the growing anger against his policies.
Things have changed.
In late September, Feingold defied expectations by appearing at a rally in Madison where Obama was scheduled to speak to more than 25,000 college students. Earlier that afternoon, he tweeted he was "proud to join President Obama" at the rally. Feingold had previously called assumptions to the contrary "a lie."
To Barry Burden, who teaches political science at the University of Wisconsin at Madison, Feingold's arrival at the Obama rally was a "shocker." It changed public perception that Feingold was shunning the president's overtures for help.
Why the turn-around? Feingold needs help. Most polls show that in the final weeks of the campaign, he trails Ron Johnson, an Oshkosh businessman with tea party leanings. Pollster.com, which aggregates national and local polls, shows Mr. Johnson at 52.3 percent and Feingold at 45.1.
---