Will tea party in Wisconsin rally around Ron Johnson?
Oshkosh millionaire Ron Johnson has a checkered history with Wisconsin tea party groups. Will they forgive and forget?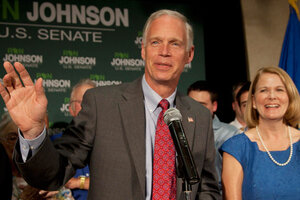 Morry Gash/AP
Wisconsin tea party groups largely stayed out of endorsing candidates in the U.S. Senate race before the September primary, but now some in the movement are reconsidering and pushing to get behind the Republican candidate Ron Johnson.
Johnson, an Oshkosh millionaire who burst onto the political stage this spring with fiery speeches at two tea party rallies, has a checkered past with some tea party groups. He fell out of favor with the Rock River Patriots after a vetting session in which several members said they were unimpressed with his knowledge of the Constitution.
Straw polls of other tea party groups in Madison and western Wisconsin show that members overwhelmingly backed his opponent Dave Westlake. Other groups, including one in Racine, showed members supported Johnson although they didn't endorse anyone in the primary. A coalition of more than 70 tea party groups did not endorse anyone but may reconsider that for the Nov. 2 general election race against Democratic incumbent Russ Feingold.
Johnson beat Westlake with 85 percent of the primary vote. Johnson spent more than $4 million of his own money blanketing the airwaves, overpowering Westlake who was running on a shoestring budget. After the election Westlake threw his support behind Johnson.
---