Can social conservatives join up with the 'tea party'?
At the Values Voter Summit this weekend, traditional social conservatives hope to tap into tea party fervor. Some GOP presidential hopefuls are there to show their stuff for a straw poll.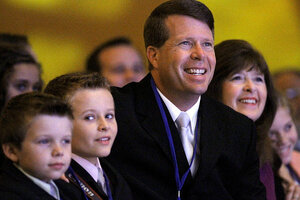 Jacquelyn Martin/AP
The Values Voter Summit going on Friday and Saturday in Washington is part beauty contest for GOP presidential hopefuls, part rally site for traditionally conservative activists and their leaders hoping to tap into "tea party" fervor. It's also a lightning rod for liberal critics who paint the conservative gathering as anything but representative of the values most Americans hold.
The current political scene is tricky for mainline conservatives, especially those thumping social issues like abortion and same-sex marriage. While such issues may be of interest to many tea partyers, they are not at the forefront of tea party activism, which tends to be more libertarian – focused on federal spending, taxation, and the new health-care reform law derisively called "Obamacare."
Plus, polls show that younger conservatives – whether or not they're tea party activists – care less about social issues. For example, younger evangelicals are more likely to approve of same-sex marriage or civil unions than are older evangelicals (52 to 34 percent).
---