In energetic 'tea party,' is there room for social conservatives?
The 'tea party' movement coalesces around fiscal responsibility and limited federal government, not bans on abortion or gay marriage. It's an agenda that some say will attract more people to the Republican Party, though it may leave social conservatives wandering in the wilderness.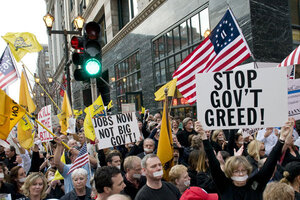 Jeff Curry/AP
Emergence of the grass-roots "tea party" movement as a major force on the American political right is having a quiet but fundamental effect on the Republican tribe: Social conservatives have been voted off the island.
As fiscal conservatism, epitomized by placard-waving tea party voters, infuses a moribund GOP with new life, Republicans such as Virginia Gov. Bob McDonnell – who with the help of fiscal conservatives won the governor's seat last year from the Democrats – are jettisoning their culture warrior armor. This week, in fact, Governor McDonnell extended protections to gay state workers.
Of course, many say tea-party rhetoric emphasizing a basic constitutional framework is code for a return to Christian values these activists see as enshrined in the Constitution by the Founders – a foundation that would seem to give them much in common with social conservatives. One tea-party favorite, Fox News host Glenn Beck, lays down "I believe in God and He is the center of my life" as a key principle in his 9/12 manifesto, which has become a subset of the tea party movement.
But among grass-roots tea party leaders, social issues such as abortion, gay rights, and marijuana legalization are held at arm's length in favor of fiscal issues that can appeal to independents, Democrats, and, most important, suburban conservatives.
---