GOP weighs economy, social issues in planning for elections
At the 'Values Voter Summit,' social conservatives heard from GOP presidential hopefuls. With the tea party insurgency swirling around them, they have to weigh economic and social issues.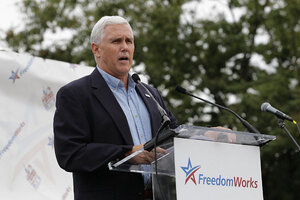 J. Scott Applewhite/AP
It was a miniscule number of voters in just one slice of the US political spectrum, but a weekend straw poll gives insight into how Republican hopefuls stack up for the 2012 presidential race.
On Saturday, at least, social conservatives within the GOP favored Rep. Mike Pence. The Indiana lawmaker won 24 percent of the 723 votes cast, just ahead of last year's winner, Mike Huckabee, who drew 22 percent. Farther back in the back were Mitt Romney (13 percent), Newt Gingrich (10 percent), and Sarah Palin (7 percent).
"I am a Christian, a conservative and a Republican – in that order," Pence told some 2,000 people at the two-day Values Voter Summit in Washington, an annual affair whose lead sponsor is the conservative Family Research Council, for whom social issues are a prominent focus. Those at the summit named abortion, government spending, and the repeal of President Obama's health care reform as their top issues.
---