Tim Kaine enters Virginia Senate race, and Democrats breathe a sigh of relief
Former governor and current DNC Chairman Tim Kaine declares his candidacy for the Virginia Senate race, joining former governor and senator George Allen (R).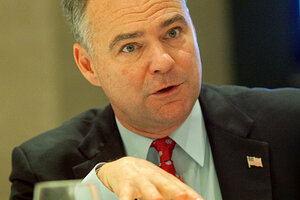 Michael Bonfigli / The Christian Science Monitor / File
Tim Kaine is in. The chairman of the Democratic National Committee and former governor of Virginia announced Tuesday that he will run for the open Senate seat in his home state, setting up a likely marquee matchup against former Sen. George Allen (R), who declared for the Senate race in January.
Mr. Kaine is widely seen as the Democrats' best hope of holding onto the seat, currently held by retiring Sen. Jim Webb (D). In addition, the race may help President Obama in his quest to hold on to Virginia in the 2012 presidential race. When Mr. Obama won Virginia in 2008, he was the first Democratic presidential candidate to do so since 1964. In 2010, Virginia swung Republican in statewide races, but with the popular Kaine on the ticket, Obama is likely to benefit – especially if the Democrats can generate high turnout among minorities and young voters.
In announcing his campaign, via video on his new website, Kaine touted his record as a local official and then governor, and made no mention of his time as DNC chair.
"As a city councilman and mayor, I helped my city cut crime, build schools, and attract jobs," Kaine said. "As governor, I helped lead Virginia through the toughest economy in 70 years. We cut billions of dollars from the state budget, tightened our belt, and made government more efficient."
---