If Senate takeover eludes GOP on Election Day 2010, look to 2012
The 2012 election is shaping up to be a big opportunity for Republicans. If they don't win a Senate majority on Election Day 2010, they'll have plenty of vulnerable seats to contest in 2012.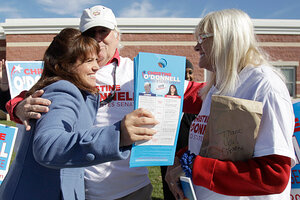 Rob Carr/AP
The votes have barely been cast in the 2010 Senate races, but strategists, activists, and potential candidates are already looking ahead to the 2012 cycle.
For the GOP, it's a veritable cornucopia of opportunity. If the Republicans don't take over the Senate in Tuesday's election – and even party leaders predict they won't quite get there – they're well-positioned to finish the job in 2012.
For the Democrats, the vulnerabilities spread far and wide. Of the 33 Senate seats up in 2012, 21 are currently held by Democrats, and two more are held by independents who caucus with the Democrats. It's the crowd that swept into office during the Democratic "wave" election of 2006, and those from Republican and swing states will be especially vulnerable.
One freshman senator who has to watch out is Jim Webb (D) of Virginia, a swing state that swung Republican in statewide elections a year ago. The man he ousted four years ago, former Sen. George Allen (R), is already making moves to unseat him in two years. Former Senator Allen has a Facebook fan page up, and he's reportedly already talked with National Republican Senatorial Committee chairman John Cornyn about running. At the recent Virginia Tea Party Patriots Federation convention in Richmond, Allen was a visible presence.
---