Elizabeth Warren moves toward barnburner race against Sen. Scott Brown
Consumer advocate Elizabeth Warren filed paperwork Thursday to form an exploratory committee for a US Senate run in Massachusetts. Republican Scott Brown currently holds that seat.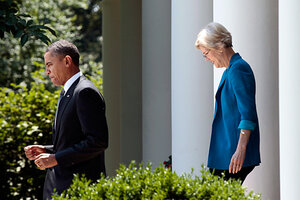 Pablo Martinez Monsivais/AP/File
Harvard law professor Elizabeth Warren filed paperwork Thursday to form an exploratory committee for a Senate run, setting up a potentially competitive race with Republican Sen. Scott Brown of Massachusetts.
The Massachusetts race is one of the few in 2012 where a Democrat has a shot at capturing a Republican-held seat. Though Senator Brown is reasonably popular, he represents a deeply blue state, and handicappers call a Brown-Warren race a tossup.
Brown won the seat in a special-election upset in January 2010, following the death of Sen. Edward Kennedy (D). Tea party money came in from all over the country, adding momentum to the low-tax, small-government movement when Brown won.
Ms. Warren is best known for advocating creation of the Consumer Financial Protection Bureau (CFPB), a body mandated by the financial reform legislation of 2010. The outspoken liberal became a lightning rod on the issue, making her a favorite of progressives and a boogeyman for conservatives.
President Obama did not nominate her to be the first head of the agency, knowing Senate confirmation would have been nearly impossible. Instead, he made her a special adviser to the Treasury secretary for the CFPB. She left the administration on Aug. 1 and returned to Harvard.
Warren is probably the best recruit Democrats could get for the Massachusetts Senate race after being turned down by Gov. Deval Patrick (D), says Jennifer Duffy, Senate-watcher for the nonpartisan Cook Political Report.
---
Follow Stories Like This
Get the Monitor stories you care about delivered to your inbox.