Nebraska's GOP Senate primary: another tea party surprise?
A late surge for Sarah Palin's pick for the Nebraska primary could topple yet another GOP establishment candidate, in a race that could help determine control of the US Senate.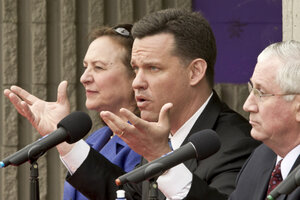 Nati Harnik/AP/File
A Nebraska Senate primary – which voters are deciding Tuesday – is shaping up to have a wild finish.
Until recently, most observers assumed that the front-runner in the GOP primary, Attorney General Jon Bruning, would win the primary and take on Democrat Bob Kerrey, the former US senator and governor, in November.
Mr. Kerrey is reentering politics in an effort to help Democrats retain a key Senate seat, which opened up when current Sen. Ben Nelson (D) announced he would retire.
Instead, this race – along with some other states' primaries this year – has become a battleground showcasing schisms in the Republican Party, including among tea party activists.
And now, the surge of momentum seems to be going to an unlikely candidate, rancher and state Sen. Deb Fischer, who is running for statewide office for the first time, on a shoestring budget.
Ms. Fischer's campaign has been bolstered in recent days by an endorsement from Sarah Palin, $200,000 worth of anti-Bruning ads in the past weekend from a "super PAC" controlled by Chicago Cubs co-owner Joe Ricketts, and an ad campaign of her own that gained significant attention. The ad features two large bulls tagged with her opponents' names – Bruning and state Treasurer Don Stenberg – and asks voters, "tired of political bull?"
---