What's an American Indian? Warren case stirs query
Native Americans have a high rate of intermarriage with other groups. Many are not identifiable by appearance, which has made it possible for almost anyone to assume a Native persona. That seems to have been the case with US Senate candidate Elizabeth Warren.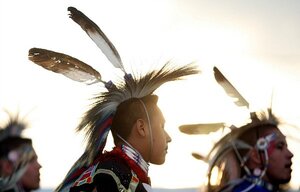 Casey Riffe/Billings Gazette/AP
What, exactly, makes someone American Indian? Even Indians themselves don't agree as they debate the case of Senate candidate Elizabeth Warren, whose disputed claim of Native American identity is shining a rare spotlight on the malleable nature of Indian heritage and the long history of murky claims to such ancestry.
Warren, a Harvard Law School professor and Democrat who is running in Massachusetts against Republican incumbent Sen. Scott Brown, was listed as Native American in several law school directories. Warren has said that her "family lore" described Indian ancestors, and the New England Genealogy Association said it found indications – but not proof – that Warren had a Cherokee great-great-great grandmother, which would make her 1/32 Indian.
"I'm proud of my heritage," Warren said Thursday. Asked how she knew it included Native Americans, she replied, "Because my mother told me so."
Her opponents question whether Warren chose this heritage to gain advantages available to Indians and other underrepresented groups in academia.
"Warren has zero evidence that she is at all Native American," said Brown's campaign manager, Jim Barnett. The genealogy association acknowledges that it found only secondary references to Cherokee family members, not primary sources such as marriage, birth or census records.
Among Native Americans, the varying opinions demonstrate that Indian identity is subjective even among Indians themselves.
When David Eugene Wilkins first saw Warren interviewed during her nomination to a federal post, he was smitten by her intelligence and politics. But when he heard about her claims of Indian ancestry, "I shook my head and said, 'Oh no.'"
---