Has Elizabeth Warren put the 'Cherokee issue' behind her?
Elizabeth Warren has won the Democratic nomination to challenge US Senator Scott Brown in Massachusetts. But questions about her claim to Native American ancestry continue to dog her.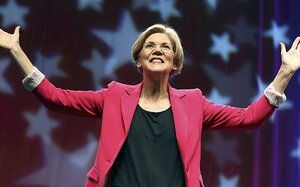 Michael Dwyer/AP
After many days of tripping over a personal issue that knocked her off-message, Elizabeth Warren says she's back on track to compete with incumbent Scott Brown for a US Senate seat in Massachusetts.
In Springfield Saturday, Ms. Warren won the Democratic nomination to run against Sen. Brown – something she's tried to do for months while having to repeatedly answer questions about her claim to ancestral ties to the Cherokee tribe of Native Americans.
Warren, a Harvard Law School professor and consumer advocate, won enough delegate votes at the party convention – a record 96 percent – to avoid a primary election in which she might have had to run against fellow Democrat and immigration attorney Marisa DeFranco.
Polls show Warren and Brown in a dead heat.
According to the latest Western New England University poll of registered voters, Warren leads Brown 45-43 percent (within the poll's 4.4-point margin of error). A similar poll three months ago had Brown ahead 49-41 percent.
RECOMMENDED: Six races where the tea party counts
A new Boston Globe poll, on the other hand, has Brown ahead by two percentage points (39-37 percent) – the same spread as in March.
At the same time, according to the Globe poll reported Saturday, questions over Warren's handling of the Cherokee issue – awkward and apparently less than forthcoming at times – remains at least a potential problem for her.
---