Sen. Orrin Hatch: Will the tea party bring him down in Utah?
Six-term US Sen. Orrin Hatch faces his first Republican primary election since 1976, challenged by tea party favorite State Senator Dan Liljenquist. Will Hatch suffer the same political fate at the hands of the tea party as defeated GOP Senate veterans Bob Bennett and Richard Lugar?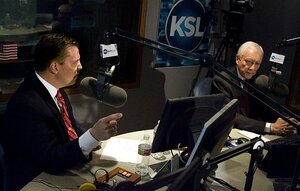 Laura Seitz/The Deseret News/AP
Two years ago, a conservative US senator in conservative Utah – three-term incumbent Bob Bennett – got the boot at the Republican state nominating convention, losing to tea party favorite Mike Lee at a time when ever having shown any signs of legislative compromise was a mark of wobbly disloyalty to the conservative cause.
This time around, Utah's other US senator – six-term incumbent Orrin Hatch – got the same kind of scare. State Senator Dan Liljenquist – another tea party favorite – forced Hatch into a primary election to be held this Tuesday, Hatch's first primary challenge since he began his political career in 1976.
So is Orrin Hatch fated to receive the same kind of rough tea party treatment as Bob Bennett (or, more recently, Richard Lugar in Indiana) – relegated to retirement or life as a lobbyist?
It seems unlikely.
Hatch has spent some $10 million on his re-election bid (more than 10 times his opponent). He agreed to only one radio debate with Mr. Liljenquist who – 40 years younger than Hatch – is a literal as well as figurative fresh face and might have been seen as such on TV. He emphasizes his conservative credentials (a 90 percent lifetime rating by the American Conservative Union), and he doesn't mention his friendly relationship with the late Sen. Ted Kennedy or the legislation they worked on together.
---