Angus King wins. Maine sends new voice of moderation to Senate.
A popular former governor, independent Angus King replaces retiring moderate Republican Olympia Snowe. King says he hopes to help break the gridlock in Washington.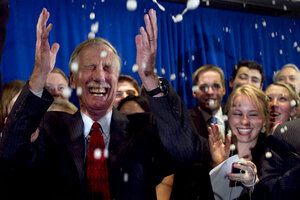 AP Photo/Robert F. Bukaty
In a nation of deep partisan divides, you can chalk up one new senator-elect who's neither a Democrat nor Republican.
That would be Angus King, independent, from the state of Maine.
A popular former governor, Mr. King won decisively enough that Maine's was one of the first Senate race results to be called on Election Night.
The seat was open because Sen. Olympia Snowe, part of a fast-fading breed of moderate Republicans, decided to retire at the end of her term. She cited frustration with the increasingly bitter climate in Washington, with less cooperating and legislating occurring across party lines. Some other Republican incumbents have been pushed aside in primaries by more conservative rivals from within, fueled by the tea party movement.
Against this backdrop, King's win appears for now to be the exception that proves the rule. Congress remains for now a place of sharp rifts between the parties.
At the same time, his victory symbolizes the fact that moderates or independents can still win under the right conditions. In fact, public opinion polls this year have found that Americans are hungry for more bipartisan cooperation and compromise on issues such as taxes, spending, and federal deficits.
King says he's eager to not only serve his state in Washington, but also to be an advocate for efforts to break the gridlock.
As an independent, he says he'll talk with members of both parties to decide which side to "caucus" with, a decision that could open the door for him to play a role on Senate committees and could signal which party he feels most at home with.
---