Can Senate candidate Gabriel Gomez help GOP repair its image among Latinos?
Massachusetts' Gabriel Gomez says he wants to make the Senate's 'Gang of Eight,' which has been working on immigration reform, a 'gang of nine.' Many Latinos were turned off by Republicans' anti-immigrant rhetoric in the 2012 elections.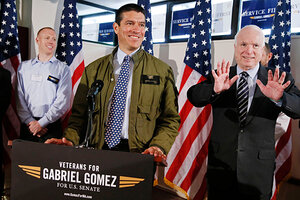 Michael Dwyer/AP
The first thing Gabriel Gomez likes to tell crowds on the campaign trail is where he's going – the United States Senate. The second is where he's coming from.
When his parents immigrated from Colombia five decades ago, he said at a rally this week in Boston, "never in their wildest dreams would they have imagined that their oldest son would graduate from the United States Naval Academy. Only in America could that even have been a possibility – or come true."
There are many ways to look at the candidacy of Mr. Gomez, the Republican running for John Kerry's vacated Senate seat in Massachusetts – as a moderate, a maverick, a Washington outsider, an underdog.
But some hope he may be even more than that: a new face for the Republican Party.
"He's offering a contrast to the rhetoric the party campaigned on in 2012, which was very anti-immigrant, very anti-working class," says Matt Barreto, an associate professor of political science at the University of Washington in Seattle and co-founder of the political research firm Latino Decisions. "This is the kind of guy who could breathe new life into the party, and whether or not he can win, [the GOP needs] to be front and center in this race to say, this is what we're all about."
And there are signs the GOP may be doing just that. The National Republican Senatorial Committee (NRSC) announced this week that it would commit at least four staffers to the Massachusetts race, quieting pundit doubt that the national party had already declared its candidate down for the count.
Two fundraisers, a volunteer organizer, and a communications point person from the NRSC will join the Gomez team in the sprint to the June 25 special election against Edward Markey, an 18-term Democratic congressman.
That should help Gomez overcome one of his most glaring deficits: money. Representative Markey has nearly $5 million in the bank, while Gomez had just $500,000 earlier this month.
To be sure, Gomez is hardly the first Hispanic GOP candidate. Several other high-profile Republican Latinos – including Florida Sen. Marco Rubio and Govs. Susana Martinez of New Mexico and and Brian Sandoval of Nevada – have been elected recently.
But Gomez comes at a particularly crucial time for the GOP, which has been considering ways to repair its image among Latinos after the party took a beating in the 2012 elections.
---