Why senators are avoiding the Tea Party Caucus
(Read article summary)
Some tea party favorites stayed away from the Thursday's meeting of the new Senate Tea Party Caucus, as newly elected Republicans try to define themselves in Washington.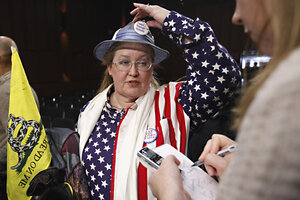 Charles Dharapak / AP
The reluctance of tea party favorites like Sen. Marco Rubio (R) of Florida and Sen. Ron Johnson (R) of Wisconsin to join a new Senate Tea Party Caucus points to the difficulty some incoming Republicans face in adjusting to the political realities of the Beltway while retaining the tea party bona fides they earned on the campaign trail.
Last year's House Tea Party Caucus had 50 members – this year's rolls haven't been released yet – but only four senators appeared before a throng of tea party supporters for the first meeting of the Senate Tea Party Caucus on Jan. 27.
Why are so few tea-party-backed senators willing to align themselves with the caucus, only months after the tea party was credited with fueling a Republican takeover of the House and boosting the party's Senate numbers?
The snub from Senators Rubio, Johnson, and others suggest that the newly elected politicians are carefully gauging the post-Tucson political winds, keenly aware that mainstream America may be tired of the kind of anti-Obama rhetoric that peppered the campaign trail and became emblematic of the small-government, anti-tax tea party movement.
---