From personhood amendment to Ohio Issue 2, not a banner election for tea party
(Read article summary)
Tea party forces lost some momentum in Election 2011, as voters rejected several conservative-backed measures, from Mississippi's personhood amendment to Ohio Issue 2 on union rights.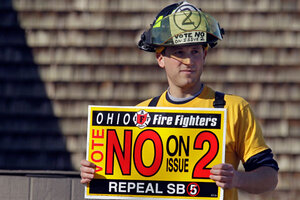 Mark Duncan/AP
At first glance, the tea party movement that crashed the 2010 congressional midterm election took an elbow to the nose in Election 2011.
Two tea party-backed candidates – one in Michigan and one in Arizona – were dethroned in rare recalls. Voters in Ohio rejected a law, pushed by small-government conservatives – that limited unions' collective bargaining power, and voters in Maine smashed the Republican-led ban on Election-Day voter registration.
Those and other developments suggest voters recoiled a bit from their stance in the 2010 election, when tea-party-backed conservatives won power at the state level and took control of the US House of Representatives. Subsequent political standoffs over the national debt limit and rising tensions in Washington over the direction of the country appear to have soured the public.
But if the tea party is chastened, it is not beaten.
There were tea-flavored victories large and small, as well as hints as to what independent voters – who swung big for Barack Obama in 2008 and equally big for Republicans in 2010 – like and don't like about the conservative small-government movement.
"If you look at the recall of [a tea party-backed state representative] in Michigan and [tea party hero Sen. Russell Pearce, architect of Arizona's get-tough immigration law] in Arizona, I think it certainly shows there are serious limits to the power of the tea party this year. Or, put differently, the tea party has successfully roused an opposition movement to it," says Charles Franklin, a political scientist at the University of Wisconsin, in Madison.
But even in Ohio, where the attack on collective bargaining went down, voters approved a measure that renounced the part of Mr. Obama's health-care reform law that requires people to buy health insurance – and by a bigger margin than the collective bargaining measure.
"What's striking in Ohio is that Governor [John] Kasich lost his signature issue but Obama lost his signature issue on the same day, on the same ballot, among the same voters," says Professor Franklin.
---