Election tech: Upstarts like 'tea party' have an edge
(Read article summary)
FDR won support with his radio chats, and Kennedy took to TV. Now 'tea party' groups are tapping Twitter.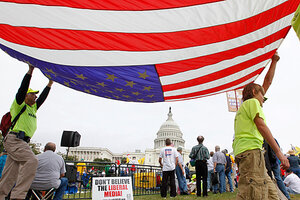 J. Scott Applewhite/AP
Reading the "tea party" leaves from Tuesday's contests is in full swing.
One of the big messages from the success of so many long-shot candidates to the rest of the political establishment: take a high-schooler to lunch and pay close attention to his or her texting, tweeting, and Facebooking skills. And make sure you eavesdrop on the chatty, highly-personal style of chitchat if they should happen to take a cell phone call while you're out. Because the lesson from this current political season is: it's not enough to just "have a facebook page." You gotta work that Twitter or Facebook or blog for all it's worth.
Outsiders trying to get into the political game know this instinctively, say political observers. That's why new technology – from the days of Thomas Paine's pamphleteering through Roosevelt's radio chats right up to Christine O'Donnell and Ken Buck's emotional, interactive tweets – favors the challengers, the revolutionaries, and the outsiders.
Join our 'tea party' conversation on Facebook.
---