Parker/Spitzer struggles through good intentions and weird moments
(Read article summary)
CNN's debut of its latest prime-time news magazine show, with Eliot Spitzer and Kathleen Parker, was very earnest about trying to be serious and bipartisan. But it hit some jarring notes.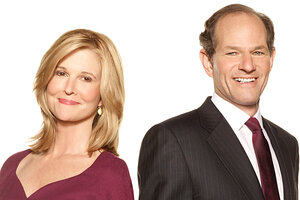 Art Streiber/CNN/AP
CNN's latest gambit to pump up its prime-time ratings – the new hour-long, "Parker/Spitzer" news magazine show – debuted Monday night as something of a gathering of earnest first years at, say, a pretty good law school.
The newbie cohosts – Pulitzer prize-winning conservative columnist Kathleen Parker and New York's former governor and attorney general, the disgraced Eliot Spitzer – were fitted out for serious business in demure pearls and a sober dark suit. A bunch of newspapers were strewn on the table in front of them – implying more high-mindedness, for sure.
They introduced their show as being about ideas, not irrational table-pounding, an apparent swipe at their competition for the time slot, Fox's Bill O'Reilly and MSNBC's Keith Olbermann. The next hour was a jumble of good intentions mixed in with some downright weird moments that somebody outside of the show's programming bubble ought to have vetted.
---