'The Daily Show,' Rolling Stone, and MTV: Obama's youth vote push
(Read article summary)
President Obama isn't trying to make Stephen Colbert jealous by appearing on 'The Daily Show' five days before the midterm elections – he's trying to fire up young voters.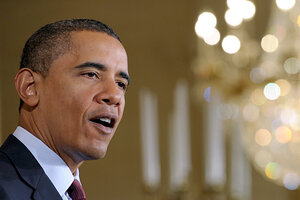 Susan Walsh/AP
President Obama is going to appear on "The Daily Show" with Jon Stewart before the November elections. Last night the White House announced that Obama will tape a segment for the show on October 27.
What's the point of that? Is the president angling to get a good spot on the stage for Mr. Stewart's "Rally to Restore Sanity," which will be held on the National Mall the following weekend? Or is he just trying to make Stephen Colbert jealous?
Well, he's probably not going to hang around Washington for the "Sanity" meeting and Mr. Colbert's competing "March to Keep Fear Alive." In all likelihood Obama will be out campaigning that weekend in a last-minute push to avoid a Democratic electoral apocalypse. Obama has called the dueling-rally premise "amusing", but that's not exactly a full-throated endorsement is it?
No, Obama is appearing on "The Daily Show" for the same reason he recently gave an interview to "Rolling Stone" and appeared in an hour-long MTV "town hall" – young voters. He's trying hard to fire up a cohort that went overwhelmingly for Democrats in 2008. The audience for Stewart's show skews young, and many of them view it as a main source of news, even if the producers insist their product is really a hybrid of pseudo-news and comedy.
---