Why is Karl Rove taking shots at Sarah Palin and Christine O'Donnell?
(Read article summary)
Karl Rove says that Sarah Palin lacks the 'gravitas' to be a presidential candidate in 2012. Rove is not a fan of Tea Party candidate Christine O'Donnell either.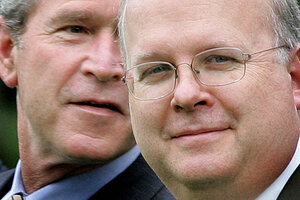 Ron Edmonds/AP/File
Karl Rove, Republican political strategist and the general behind George Bush's presidential victories, has been taking pot shots at some conservative favorites.
His latest target, former Alaska governor and Tea Party darling, Sarah Palin.
Palin, Mr. Rove told Britain's The Daily Telegraph, lacked the "gravitas" to be president in 2012.
He dissed her new Alaska reality series as a bad political move.
"With all due candour, appearing on your own reality show on the Discovery Channel, I am not certain how that fits in the American calculus of 'that helps me see you in the Oval Office'," Rove told the Telegraph.
Sarah Palin has been an influential player in the midterm elections, traveling and speaking around the United States and endorsing a range of candidates, often the same candidates endorsed by the Tea Party movement. But Palin has not declared herself a candidate in the 2012 presidential election.
---