In NPR scandal, small radio stations stand to be biggest losers
(Read article summary)
If Congress pares back funding for NPR, small stations will be hit the hardest, so many are already looking for ways to survive if the worst happens.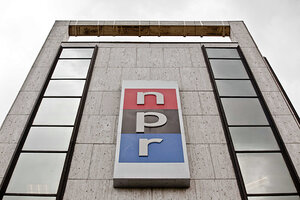 Gingold Nicholas/SIPA/Newscom
In the hidden-camera video that shows him calling tea partyers "racist" and most of America "uneducated," former NPR executive Ron Schiller also makes a statement that is not remotely controversial: If NPR loses it federal funding, many of its smaller stations will "go dark."
In a scandal that is, for the most part, political theater, small public radio stations clearly have the most to lose. As Mr. Schiller said, NPR as a whole will survive – and likely thrive – even if Congress cuts off the federal spigot. But it risks losing scores of small stations nationwide that depend on that money for as much as 30 percent of their budgets.
Now, with that threat looming, many of these small radios stations are asking how they might save themselves if the worst happens – and, in some cases, they are looking at their big-city brothers for inspiration. To some, larger public-radio stations offer lessons in efficiency and ingenuity that can be adopted by stations of any size. To others, their huge and diverse donor bases can't be duplicated.
But the search for solutions is intensifying as NPR's federal backing appears to be facing its greatest challenge in a generation.
Lessons from Chico
---