Katie Couric and 'CBS Evening News.' Is it time for them to part ways?
(Read article summary)
Katie Couric may be leaving when her contract is up in June. Ratings for 'CBS Evening News' are down, but not everyone says it's her fault. Where would she go next? And who would take over?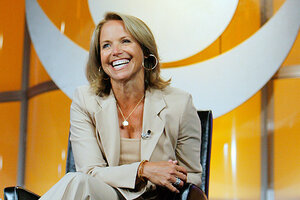 Lucas Jackson/AP/File
The news that Katie Couric may leave her anchor post at "CBS Evening News" when her contract expires in June – only five years after becoming the first woman to solo helm a network TV evening newscast – is generating heated speculation over where she would head and who would replace her.
It is also fueling a dialogue about what her exit would say – and not say – about the changing environment of broadcast news, journalism itself, fractured audiences and about Ms. Couric's abilities.
Ms. Couric took over at CBS in April, 2006, amid the unique confluence of exits for the three main, longtime network anchors: CBS's Dan Rather, NBC's Tom Brokaw, and through death, ABC's Peter Jennings.
Amid the explosive growth of Internet, cable, and the blogosphere, speculation was widespread that perhaps the age-old model of a single, day's-end newscast, led by an authority figure, might be a thing of the past.
---