Accolades galore for Jim Lehrer as he opts to exit 'PBS NewsHour'
(Read article summary)
Veteran newsman Jim Lehrer will relinquish the anchor's chair at 'PBS NewsHour' on June 6. Media analysts credit him for the newscast's 'fact-based,' 'well-reasoned,' and 'civilized' approach.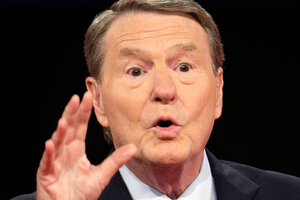 Ron Edmonds/AP/File
The announcement that veteran PBS newsman Jim Lehrer is calling it quits – sort of, eventually – touched off a wave of appreciation for his unprecedented 36 years at "PBS NewsHour" and provided media prognosticators another opportunity to wonder about the future of TV journalism.
The nightly "NewsHour," which Mr. Lehrer anchors, will continue after his June 6 departure. Indeed, Lehrer will return to moderate the program's Friday news analysis segments.
Lehrer may not be quite the household name that, say, news anchor Walter Cronkhite was during his day at CBS, but he perhaps has come the closest. Though the audience for "NewsHour" is smaller than for other network TV evening newscasts, Lehrer longevity at PBS and his role as a moderator of 11 presidential debates make him familiar to American TV viewers.
Are you smarter than a Fox News viewer? How about a CNN viewer? Take our quiz to find out.
"Lehrer's main legacy to the American news culture will be the many presidential debates he moderated," suggests Jeff McCall, media professor at DePauw University in Indiana, in an e-mail. "His selection as the moderator for so many of these important political events signifies that both parties considered him a reasonable and dedicated professional journalist – not a pretty-boy TV anchor looking to boost his career or spark sensational side shows."
---