Rick Santorum wants his Google problem fixed. Can Google shrug him off?
(Read article summary)
Google says the years-old problem Rick Santorum has had is not theirs to fix. But questions remain: Who is responsible for online reputations? And is Google a company or a public utility?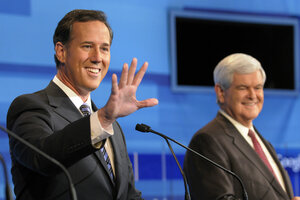 Phelan M. Ebenhack/AP
Rick Santorum has had a Google problem for years, but now the Republican presidential hopeful wants the company to fix it.
The problem began in 2003. After the then-US senator from Pennsylvania said he was opposed to "homosexual acts," a gay rights activist figured out how to drive top search results for the politician's name to graphic, homosexual material.
Now, as the race for the GOP nomination heats up – with yet another debate Thursday night – the former governor is renewing his appeal to Google to filter its search results.
"I suspect if something was up there like that about Joe Biden, they'd get rid of it," he told Politico on Tuesday.
But Google, the largest Internet search engine with some 70 percent of online search results, maintains that this is not the company's problem.
"Google's search results are a reflection of the content and information that is available on the Web," says spokesman Gabriel Stricker via email. Users who want content removed from the Internet should contact the webmaster of the page directly, he suggests, adding that once the webmaster takes the page down from the Web, "it will be removed from Google's search results through our usual crawling process."
"We do not remove content from our search results," he says, "except in very limited cases such as illegal content and violations of our webmaster guidelines."
---