Rick Santorum and his Google problem: Are digital dirty tricks here to stay?
(Read article summary)
The dispute over the scatological website set up following remarks Rick Santorum made back in 2003 highlights what some see as ethical concerns over the political use of the Internet.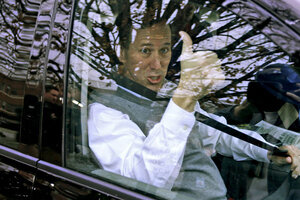 Charles Dharapak/AP
Even as Rick Santorum rises in Republican primary polls, his so-called "Google problem" just won't go away.
While he struggles to shut down the website of scatological material that pops up during a search on his last name, media experts and political strategists warn that this is just a hint of things to come.
"We are in the infancy of digital dirty tricks," says David Johnson, a Republican strategist based in Atlanta who worked on Sen. Robert Dole's 1988 presidential campaign. "The technologically savvy are only going to get better at using the Internet to attack political foes," he says, and the "unwary public who believe everything they see or search for on the Internet are the ones who will be impacted."
Mr. Santorum's cybertroubles began back in 2003 when, during an interview with the Associated Press, he compared homosexuality with bestiality and bigamy. (Sound familiar? He just got booed at a college forum in New Hampshire Thursday for comparing gay marriage with polygamy.) Syndicated sex columnist Dan Savage took offense at the remarks and created the scatological website as well as a slew of secondary sites that help direct traffic to the primary website. A Google query still brings up – in first or second place – what the former Pennsylvania senator has called a site so offensive he cannot allow his children to search for his name on the Internet.
---