'King of Bain': 6 questions answered about anti-Mitt Romney attack ads
(Read article summary)
A pro-Newt Gingrich super PAC will begin its controversial 'King of Bain' ad campaign attacking Mitt Romney Thursday. Here's a Q&A to explain what the controversy is about.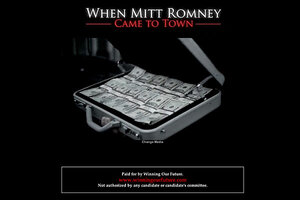 kingofbain.com
A much-anticipated ad campaign claiming that Mitt Romney helped to destroy businesses and kill jobs is set to hit the airwaves Thursday.
The ads, taken from a documentary called "King of Bain: When Mitt Romney Came to Town," have drawn criticism from some Republicans, who say they unnecessarily attack American capitalism and could help President Obama if Mr. Romney wins the Republican nomination.
But they are seen as one way the divided Republican field could haul Romney, now the clear front-runner after wins in Iowa and New Hampshire, back to the pack before the Jan. 21 South Carolina primary.
Here are the basics about the controversial campaign.
Question: Who is behind the ads?
Answer: A pro-Newt Gingrich super political-action committee, called Winning Our Future, bought the 27-minute "King of Bain" documentary, which is already available at kingofbain.com. While Twitter and other online social media are already pushing the digital message out, the TV and radio ad campaign – comprising various clips taken from the documentary – starts Thursday.
Question: What is so negative about this film?
---