Chrysler Super Bowl commercial: Why Detroit loves Clint Eastwood (+video)
(Read article summary)
Clint Eastwood's Chrysler Super Bowl commercial shouldn't be seen as political. Americans watched the ad and saw Detroit staring back at them – a proud industrial giant, clawing its way back.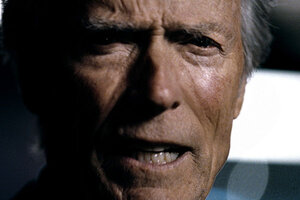 Chrysler Group LLC/AP
Clint Eastwood's Chrysler Super Bowl ad is still getting a lot of national attention, if you haven't heard. Many Democrats think it's an implicit Obama campaign ad, since it talks about "halftime in America" and the return of Detroit from the economic scrapyard. "Remember the auto bailout? Yeah, that was us." That's the Democrat's new mantra.
Some Republicans are upset about that same thing. Former Bush White House political guru Karl Rove said he was "offended" by the ad. Now, Rove is a pretty smart guy, so he's probably trying to get in the way of Obama wrapping himself in Chrysler's flag. (Think they don't have a flag? You've never been to Chrysler headquarters. GM and Ford have flags too.)
But it's our view that this argument is easily overblown. As we've said, most of America did not view this ad, and think, "Oh, we're so happy the White House provided financing for Chrysler to negotiate a quick managed bankruptcy and end up in the arms of an Italian automaker that used to be known for poor quality!"
---