A U.S. attack on Iran? Not coming soon
Tehran has softened its tone, but tough decisions await the next US president.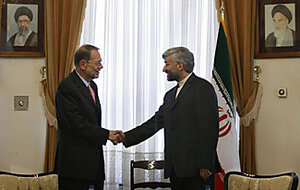 Vahid Salemi/AP
A preemptive US attack on Iranian nuclear facilities may be unlikely anytime soon. But that does not mean it is off the table forever. And Israel – worried about the possibility of a hostile, nuclear-armed regional neighbor – may have its own timetable for possible military action.
That is the bottom-line conclusion of a number of US-based experts who have talked in recent days about the possibility of any preemptive strike on Iran intended to halt its uranium enrichment program.
US-Iranian relations may well be one of the two or three toughest foreign-policy problems the next American president will have to handle. That leader will have to decide, for example, whether the issue is important enough that the US should make further concessions to Russia to ensure greater cooperation in the struggle to control possible Iranian nuclear proliferation.
And the next president will have to decide on an overall tone with which to approach an Iranian government that of late has sounded more temperate.
"Right now, the Iranians feel they have the upper hand. They're just getting smarter about their rhetoric," says George Perkovich, a nuclear-proliferation expert at the Carnegie Endowment for International Peace in Washington.
---
Follow Stories Like This
Get the Monitor stories you care about delivered to your inbox.