Iran's nuclear program: will more sanctions work?
The EU's Javier Solana heads to Iran this weekend to offer revised US-EU incentives.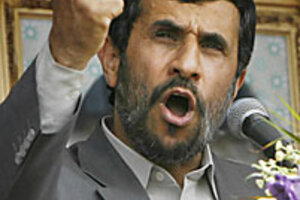 Saman Aghvami/AP
European foreign policy chief Javier Solana is due in Iran this weekend to peddle a revised package of European Union and American incentives aimed at convincing Iran to rein in its nuclear ambitions.
On offer are promises of ending Iran's isolation, boosting trade ties, and assisting a peaceful nuclear power effort. But Iran dismissed a similar offer in 2006 and has all but rejected this one, which, as a precondition, requires Iran to first give up enriching uranium – a process that can make nuclear fuel or material for bombs.
Not on the list of incentives is a security guarantee from the United States that it won't attack, despite growing speculation mixed with shrill rhetoric that the US or Israel might strike Iran's nuclear facilities in coming months.
Along with the EU-US carrot, sticks under consideration include tougher sanctions against Iran. But sanctions as a tool have had mixed success globally in recent decades. And analysts say record oil prices give Iran an advantage, even enabling a "counter-sanction" against the West by limiting oil production to further drive up prices.
"So long as we are selling the oil, nothing will work" to force Iran to give up its nuclear efforts, says a senior Iranian banker interviewed recently in Tehran, who asked not to be named.
---