Big players elbow on U.N. Security Council
Russia and China are looking for new influence as the council deals with knotty issues like Iran.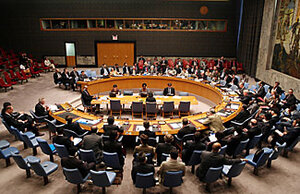 David Karp/AP
As the United Nations Security Council took up Russia's invasion of Georgia last month, a heated repartee ensued between the Russian and American representatives that had longtime UN hands wondering if the bad old days of the cold war had returned.
After an eyebrow-raising Russian veto of a Security Council resolution on Zimbabwe in July, the council's inability to reach any consensus on the Georgia crisis is reinforcing fears that a newly assertive Russia – one increasingly joined by a China that in the past was reluctant to stand in the way of consensual action – means growing paralysis for the council.
Evidence that the concerns are taking hold can be seen in recent proposals from both within and outside the Security Council countries.
There is growing resignation among some Western diplomats, for example, that the next wave of action against Iran is likely to come from like-minded Western countries – not anytime soon from additional council sanctions.
At the same time, calls are mounting in some diplomatic circles to establish a new "community of democracies" that could sidestep a paralyzed Security Council unable to take on the major global security issues of the day.
---