Wildcard in Iran election: Obama
His Cairo speech, combined with other early decisions, may have influenced Lebanon's election Sunday – and could have an impact on Iran's presidential vote Friday.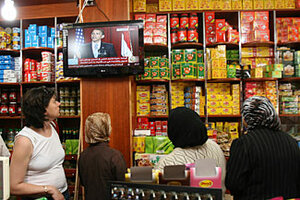 Mohammed Zaatari/AP
The verdict is in: Barack Obama's speech to the Muslim world last week has already had an impact, specifically in the surprise victory Sunday of a pro-Western coalition in legislative elections in Lebanon.
With the unexpected defeat of Lebanon's Hizbullah-led coalition, some regional analysts are wondering if Mr. Obama's approach – a respectful stance towards Islam, coupled with a firm rejection of the kind of violent extremism that has attracted some Muslims – might also have an impact in Friday's presidential elections in Iran.
Signs of an early impact don't stop there. Consider Israeli Prime Minister Benjamin Netanyahu's hastily called policy speech this Sunday, which some experts in Israeli affairs say would not be happening except for the new American president's approach to the region – and many Israelis' attraction to it.
You might call it the Obama Effect.
"The Lebanese elections came out the way they did because of the Obama speech," says Edward Walker, a former assistant secretary of state for Near Eastern affairs and member of the advisory council of the Israel Policy Forum, a group that advocates for Mideast peace. "The impact was particularly swift and strong in the Arab world."
---