US to Karzai on Afghan election: congratulations, now shape up
Western leaders sent messages of support to Hamid Karzai after his opponent dropped out of the election in Afghanistan. But the US is also exploring alternatives, including a closer association with local leaders.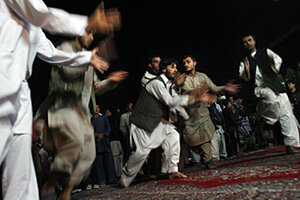 Fraidoon Pooyaa/AP
The Obama administration on Monday embraced the second term of Afghan President Hamid Karzai – a leader whom the US under President Obama had until recently dismissed as too corrupt to serve as a partner for the international effort in Afghanistan.
But the US acceptance of Mr. Karzai does not suggest any change in official perceptions of the Afghan leader or in his capacity to govern his divided and war-ravaged country, regional experts say. Rather, the new tone is an acceptance of the inevitable extension of the Karzai presidency, they say, even as the United States explores other alternatives, including a closer association with local Afghan leaders.
"It's all been so mishandled, the elections and the leadership issues, but now that they [in the administration] are confronted with the reality of another Karzai term, they will try to paper over everything and make this guy look like a legitimate and worthy leader for us to work with," says Selig Harrison, director of the Asia program at the Center for International Policy (CIP) in Washington.
---