How Gates, Mullen are building US military's ties with Pakistan
Defense Secretary Robert Gates arrived in Islamabad Thursday pledging to improve US-Pakistan relations – including building on Adm. Mike Mullen's efforts to mend fences with his military counterpart.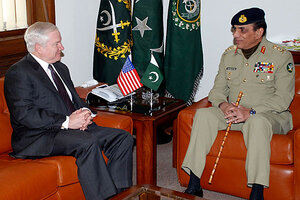 Inter Services Public Relations department/ AP
When Adm. Mike Mullen first met the head of Pakistan's Army two years ago, he carried a stern message: Do more to rein in insurgents.
Now, after more than a dozen face-to-face meetings and a number of drawn out dinners and late-night phone calls, the relationship between Mullen, the chairman of the Joint Chiefs of Staff, and Gen. Ashfaq Kayani has evolved considerably, say aides. It is, in many ways, a metaphor for how the Obama administration is trying to mend US-Pakistani ties.
As part of that effort, Defense Secretary Robert Gates arrived in Pakistan Thursday, pledging to improve relations between Washington and Islamabad.
"The main focus of my visit is to provide reassurances that we are in this for the long haul and intend to continue to be a partner of theirs for far into the future," Mr. Gates said in a press briefing.
Mullen has been emphasizing that pledge.
Where once Mullen might have tried to foist training, equipment, and other resources on the Pakistanis to help them fight the war the US wants them to fight, Mullen now listens to Kayani more and offers US military assistance only if asked, aides say. And when he is asked, Mullen has sometimes gone to great lengths to show his commitment to his Pakistani counterpart – in one case, scouring the entire US aircraft arsenal in search of a specific helicopter.
---