Haiti kidnapping case: Americans could be released today
Ten Americans charged with child kidnapping after attempting to take 33 children out of Haiti could be released as early as today. The case has shone a spotlight on the plight of Haitian orphans, many of whom end up in virtual slavery.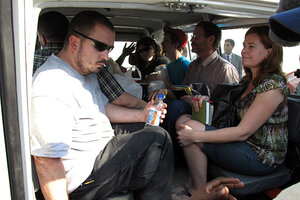 St Felix Evens/Reuters
The anticipated release as early as today of 10 Americans charged in Haiti with child kidnapping would resolve the legal imbroglio the American missionaries touched off when they attempted to take 33 children out of the earthquake-ravaged country without authorization.
It would do nothing to address the plight of the children involved in the case, however, at least some of whom were given up to the Americans by parents who believed the foreign missionaries' promise of providing the children a better life.
A court resolution would also dim the spotlight the case has trained for two weeks on the precarious existence not only on Haiti's sizable orphan population, but on much of the country's child population in general. Indeed some experts in children's issues believe the Haitian government, which some say initially saw the case as a means of impressing upon a watching world that the rule of law was operating in the country, now wants the case and the attention it has drawn to Haiti's children to go away.
The judge in the Americans' case was reportedly ready to release the 10, jailed in Haiti since their arrest Jan. 29, as early as today after having found no criminal intent in their actions. "One thing an investigating judge seeks in a criminal investigation is criminal intentions on the part of the people involved, and there is nothing that shows that criminal intention on the part of the Americans," a Haitian judicial source told Reuters.
---