Report: China's push to be green tech leader violates WTO accord
China is protecting its green tech energy industries, says a new report by the National Foreign Trade Council. Moreover, Beijing is ordering big state-owned enterprises to favor Chinese manufacturers in their energy purchases, in violation of its WTO commitments, the report finds.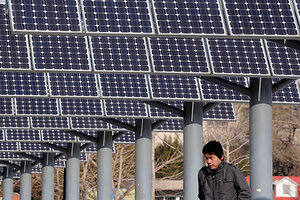 AP/FILE
The Chinese government is encouraging domestic companies to learn from, copy, and ultimately supplant foreign producers of 'green tech' renewable-energy technology as it presses forward with its campaign to shift rapidly to noncarbon sources of energy, says a new report commissioned by the Washington-based National Foreign Trade Council (NFTC).
The report finds, too, that China is ordering its large state-owned enterprises to favor Chinese manufacturers in their purchases of energy-related equipment – a policy that if substantiated would violate commitments China made when it joined the World Trade Organization in 2001.
The report coincides with rocky times in US-China economic relations and with growing concern in other countries about being shut out of China's booming markets. Chinese officials on Sunday rebuffed Obama administration calls for China to allow its currency to appreciate – and indicated China will continue to aggressively promote export-driven growth.
In remarks Sunday, Chinese Prime Minister Wen Jiabao referred critically to unnamed foreign economies "attempting to force other countries to appreciate their own currencies, just for the purpose of increasing their own exports." The remark was seen to be aimed at the US, which has led a chorus of foreign powers that accuse China of artificially undervaluing its own currency as a means of keeping the cost of its exports low.
---