Obama and Cameron at G20 summit: At least the US-UK World Cup duel is over
When Obama and Britain's Cameron meet Saturday at the G20 summit, at least they won't have a World Cup matchup between their countries to tussle over. The need for more stimulus to propel the global economic recovery? That's another matter.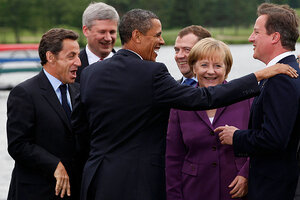 Newscom
Britain's new prime minister, David Cameron, reports friskily that he might have to wrestle German Chancellor Angela Merkel to the ground when the two leaders take time out from the weekend G20 summit in Canada to watch Sunday's World Cup pairing of the two European soccer giants.
So it comes as no small relief that England and the United States have already had their World Cup matchup – with the two teams tying, 1-1, on June 12. After all, Mr. Cameron is to have his debut meeting as prime minister with President Obama Saturday, and a wrestling match might not be the best way to start off the latest iteration of the "special relationship."
The truth is that, while the two leaders are in some ways predisposed to seeing eye to eye – both are young leaders, though Cameron is the younger at 46, and both are cool pragmatists – they also have more serious differences to address than a sports rivalry.
---